Cobb County Court House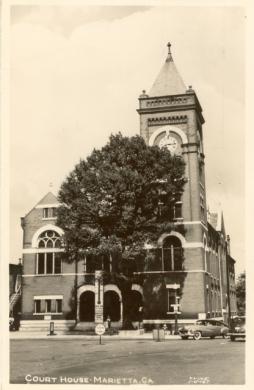 The first courthouse was built in 1834 and was located in Marietta. It was a mere one-room log structure. This served the citizens of Cobb County until about 1838. The courtroom was heated by a fireplace in the rear.
In 1838, the county officials caused a new courthouse to be constructed. After only five years, it became necessary to have a courthouse to reflect the prosperity of its citizens. The new courthouse was a two-story courthouse built on the square of Marietta. It was later moved from the town square onto Washington Avenue.
It later served as a personal residence for many years before becoming home to a law office. It is presently located on Washington Avenue. The photograph includes a porch that was an addition to the original courthouse.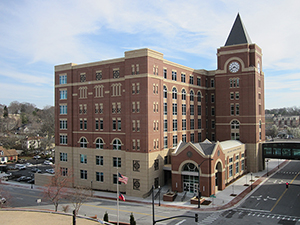 On January 22, 1852, the legislators authorized the judges of the inferior courts of Cobb County to construct a new courthouse. The act further caused the courts to find a suitable place to hold court sessions until the new building was available. Evidently, the old courthouse had become "unsuitable."
This particular courthouse stood until the infamous Sherman's march through Georgia in the War of the Northern Aggression. It was but one of the many buildings destroyed by the general's troops of destruction.
Courthouse built in 1873 The legislature on December 9, 1871 authorised the Ordinary Court of Cobb County to issue bonds for the building of a new courthouse. The new two-story brick building was completed in 1873. It included a clock tower. This particular courthouse is shown to the right. It was later remodeled changing the appearance entirely, bringing a refreshing look to the square. Fourth courthouse, after it was renovated from the original 1873 structure.
This courthouse served until 1966 when a new structure was opened. The new structure was a complex of buildings holding all the courts along with the other county agencies.