Criminal Investigation Division
Criminal Investigation Division
The Criminal Investigation Division is composed of several Units, these are:
Photo-processing Services for Cobb County Government Agencies
Crime Scene Investigation (CSI) Unit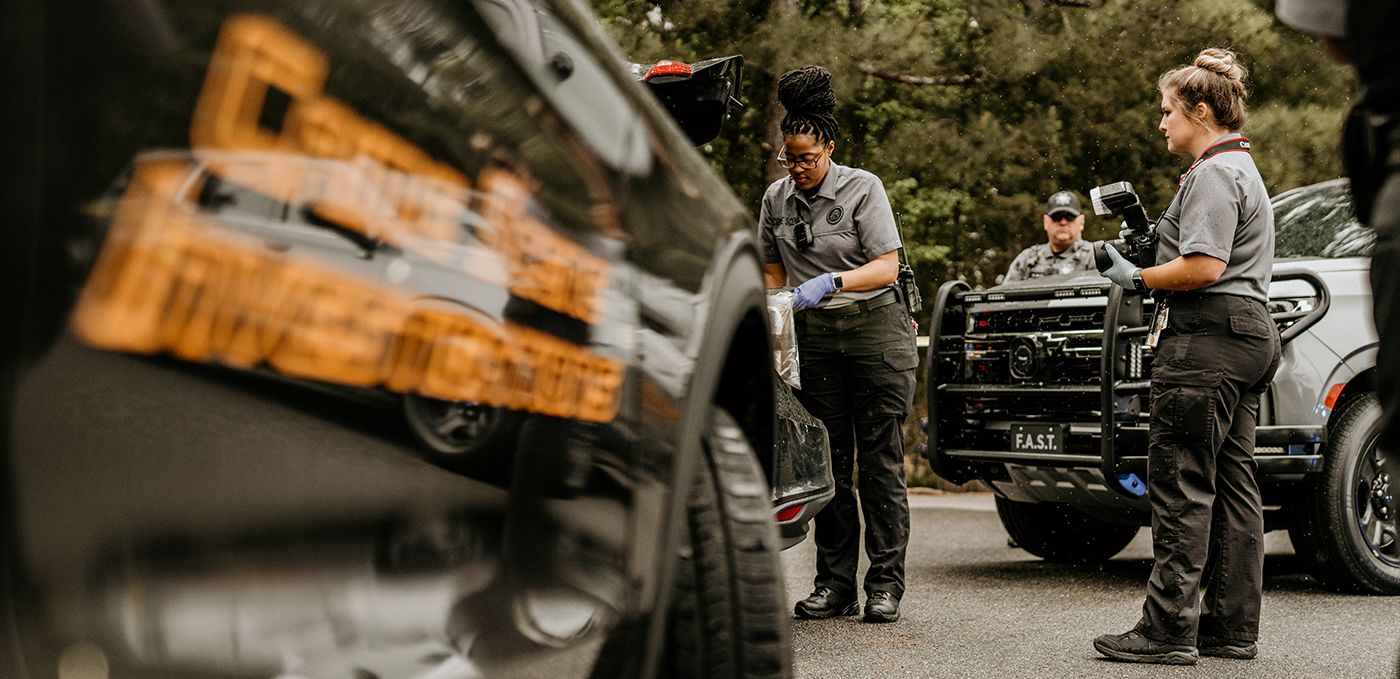 Crime Scene Technical Services, provides crime scene services to all law enforcement agencies within the County. This unit provides crime scene photography, including in-house development of all film and video documentation, as well as evidence collection and other crime scene processing services. It is one of the few units in the metro area that is staffed 24/7 with certified crime scene technicians.
Also organized under the Crime Scene Unit is an in-house marijuana-testing lab, which services all local law enforcement agencies within the County. The lab provides testing services as well as expert testimony related to the testing and has been instrumental in expediting marijuana cases through the court process.
Domestic Violence Unit
Created in 1997 through a federal grant, this section focuses its efforts on the service of domestic violence warrants and temporary protective orders. Domestic violence incidents, unfortunately, have been increasing at an alarming rate. These offenses are very volatile and dangerous both for the individuals involved and for the law enforcement officers who intervene. Domestic Violence Investigators are specially trained to deal with the situation they encounter and to provide assistance to the victims of these offenses.
For further information on domestic violence and how the courts can assist victims call 770-499-4677.
Elder Abuse Task Force
The Elder Abuse Task Force was created to bring together a multi-jurisdictional organization that addresses financial, physical, and institutional abuse of seniors. Partnering agencies include the Cobb Sheriff's Office, Cobb Police, Marietta Police, Smyrna Police, the Cobb District Attorney's Office, YWCA, Cobb Senior Services and many more. To report suspected incidents of elder abuse call 770-794-6990.
Evidence Custodian
The Evidence Custodian is responsible for securing and maintaining all evidence collected by any Deputy of the Cobb County Sheriff's Office, as well as transport of evidence to and from the State Crime Lab.
Fraud And Forgery Unit
The Forgery/Fraud Unit of the Criminal Investigation Division is assigned the responsibility of investigating violations of Georgia Law primarily related to the following areas:
Forgery 1st Degree (O.C.G.A. 16-9-1 (b)) & Forgery 2nd Degree (O.C.G.A. 16-9-1 (c))
Forgery 3rd Degree (O.C.G.A. 16-9-1 (d)) & Forgery 4th Degree (O.C.G.A. 16-9-1 (e)).
Financial Transaction Card Theft (O.C.G.A. 16-9-31) & Financial Transaction Card Fraud (O.G.C.A. 16-9-33)
Identity Fraud (O.C.G.A 16-9-120, 16-9-121, and 16-9-125)
Theft by Taking and Related Statutes
Computer Crimes and Related Statues including, but not limited to Computer Theft and Computer Forgery
Violation of the Georgia Controlled Substances Act (VGCSA).
Criminal Attempt to Obtain Firearms – Possession of Firearms by Convicted Felons and First Offender Probationers (O.C.G.A. 16-11-131).
Other criminal violations as directed by the Sheriff or the Division Commander.
Fugitive Apprehension
The Fugitive Section primarily investigates and locates defendants named in criminal arrest documents that are violent offenders, have extensive criminal histories or are evading arrest. The Unit is responsible for processing and coordinating all Extradition/Fugitive from Justice cases.
The Extradition Deputy shall ensure that all paperwork is obtained and executed in accordance with the law and that everything is properly documented. The Fugitive Apprehension Juvenile Deputy shall serve all arrest documents, subpoenas and Juvenile Complaints and investigate all Juvenile Complaints in accordance with this policy and the laws of the State of Georgia.
Offenses investigated by the Fugitive Section may include, but not limited to, the following types of cases:
Murder;
Rape;
Armed Robbery;
Aggravated Assault or Aggravated Battery;
Kidnapping;
Child Molestation;
Cruelty to Children (felony);
Juvenile Apprehension Section
The Sheriffs Office has a section dedicated to locating and detaining runaways and juvenile fugitives. Apprehending these youthful offenders is a high priority, not only due to the offense involved but also because of the danger they face as possible victims of adult offenders.
MCS Organized Crime Task Force
The Marietta/Cobb/Smyrna (MCS) Narcotics & Intelligence Unit is a multi-jurisdictional task force formed in 1980 and commanded by a Major from the Cobb County Sheriff's Office, with a primary mission of drug interdiction within Cobb County. Initially, the unit was comprised of personnel from the Cobb County Sheriff's Office, Marietta Police Department, Cobb County Police Department, Smyrna Police Department and the Cobb County District Attorney's Office to bring the necessary manpower and resources together in a cooperative effort to bring drug dealers before the criminal justice system.
In 2001/2002 the Unit added personnel from the Acworth Police Department, Kennesaw Police Department and Powder Springs. The agencies work together in a cumulative effort to stem the flow of illegal substances, organized crime and vice crimes within our community. To make anonymous reports of suspicious activity call 770-590-5554 or email This email address is being protected from spambots. You need JavaScript enabled to view it. Or submit the form below:
Sexual Offender Unit
The Sheriff's Office is mandated by State Statute to enforce all local and state laws regarding convicted sex offenders. Deputies assigned to this unit shall ensure that all statutes are enforced, violations are investigated and registered sex offenders are managed in compliance with state and local laws.